Flamenco is a beautiful typical Spanish dance, which has influences from the gypsy culture. It was born in Andaluzia, but you can enjoy flamenco concerts all over Spain. Here in Barcelona there are many great options, for all kinds of travelers and budgets. We gathered 6 great flamenco concerts in Barcelona to help you to decide which one you'll attend to. We're sure you're gonna fall in love with the strength, drama and power of the flamenco dance!
1. Palácio del Flamenco
This was our very first experience with flamenco in Spain and we loved it!
You can choose between three concert times: 6:25 PM, 80:20 PM and 22:30 PM. This experience is more than just the flamenco concerts, because includes a special Spanish dinner as well. So we advise you to get there 30 minutes before the show starts so you have time to eat and enjoy the dinner.
There are 3 price options:
→ Concert+ 1 drink (soft drink, water or sangria glass): €35
→ Concert + paella (it also includes salad, one drink and chocolate pastries): €50
→ Concert + tapas (seafood paella, Spanish tortilla, Spanish cheeses, a chicken dish, one drink and chocolate pastries): €65
When we attended, the food was great, we really enjoyed the flamenco dance and musicians. And it takes place in a beautiful and comfortable theatre.
Palácio de Flamenco is located at Carrer de Balmes, near Provença station.
You can buy tickets for this experience here.
2. Los Tarantos
This is a cheaper option, it costs only  €15. The duration of the concert is 35 minutes and it takes place at Los Tarantos, a tradicional "tablao" stablished in 1963. It's located at Plaça Reial, in our opinion one of the most beautiful squares in Barcelona. It's very near The Ramblas!
Los Tarantos offers only the flamenco show, without dinner or tapas. Also, there are no reserved seats, so you should get there early because the space is small (if the seats are taken you'll have to stand). There are 90 seats and 130 people attend each concert. After a full day walking around Barcelona, standing for one hour in a flamenco concert may be uncomfortable.
At Los Tarantos there are 3 daily sessions: 8:30 pm, 9:30 pm and 10:30 pm.
If you want to enjoy a flamenco concert without spending too much money, you can buy the tickets here.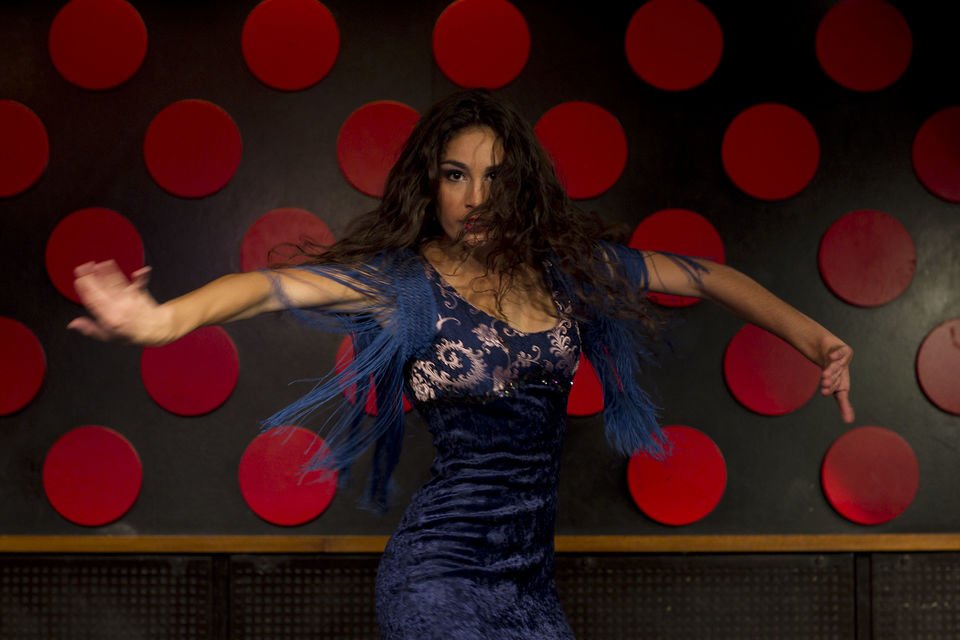 3. Arte Flamenco Show
This concert lasts 45 minutes and also happens 3 times each night: 6:30 pm, 8:00 pm and 9:30 pm. Before enjoying the show you can visit de Arte Flamenco Museum and learn more about flamenco history.
There are two price options: the concert alone costs €30 and the concert + one drink cost €35.
This flamenco show takes place inside the shopping center Las Arenas, an old arena de toros (bullfight arena) that nowadays is a shopping mall, but with it's original architecture. So you can go shopping before the concert, if you want to. A very nice thing to do at Las Arenas as well is to go up to the 360 rooftop and enjoy the amazing view.
You can buy the tickets to this concert here.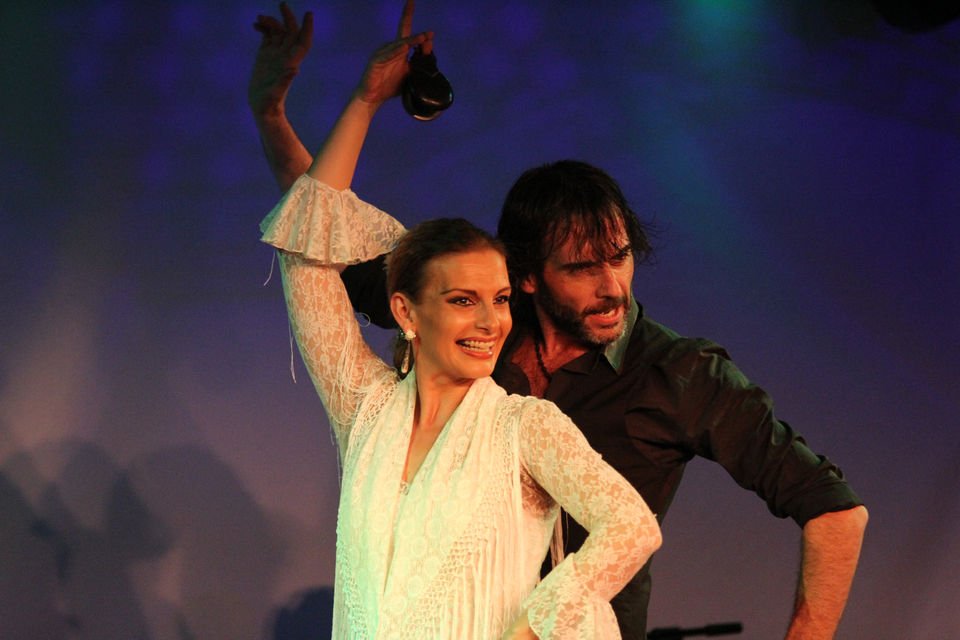 4. Tablao Cordobés
This tablao is small, with capacity for 180 people. It's at The Ramblas, right in the touristic center.
The concert lasts one hour and you can choose between the options: concert and drinks (€44) or concert with dinner (€79). If you choose the dinner you'll enjoy a good variety of mediterranean food, including paella, sweets, fruits and drinks (wine, sangria, beer, soft drinks, mineral water and coffee).
The concerts happen at 7:15 pm, 9:00 pm and 10:30 pm.
Buy your Tablao Cordobés tickets here!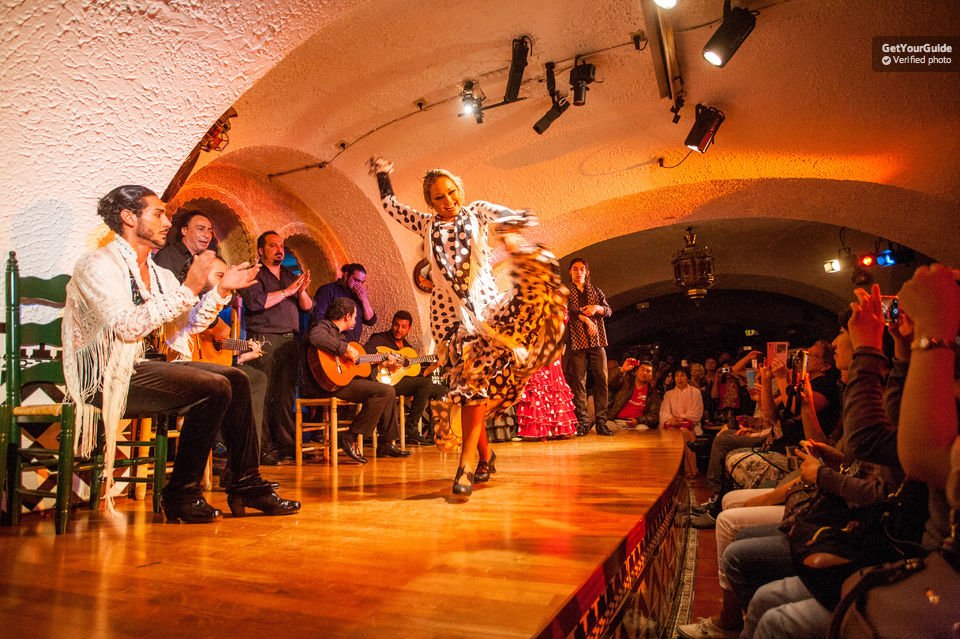 Flamenco at the City Hall Theatre
This show takes place at the City Hall Theatre, at Rambla Catalunya (really close to Plaça Catalunya), and the duration is 1 hour. There are two concerts every night, at 7:30 pm and 9:30 pm.
If you choose the seats in the back it will become a cheaper option. Or, if you want to have the best experience ever, buy the seats in the front!  ?
→ Ticket C – seat in the back: €15
→ Ticket B – seat in the middle: €25
→ Ticket A – first row seat + 1 drink: €35
→ VIP Ticket – seat in a VIP area with the best view + cana or wine: €50
Choose the best option for you and buy the tickets here!
Flamenco at the Palau de la Música Catalana
The Palau de la Música Catalana offers flamenco concerts every now and then. You can check their schedule at the official website. The Palau is an amazing modernist building, it's worth the visit.
Visit the oficial Palau de la música website for further information.
If you buy flamenco tickets with your partner GetYourGuide you can cancel the reservation 24 hours before the event and have full refund.